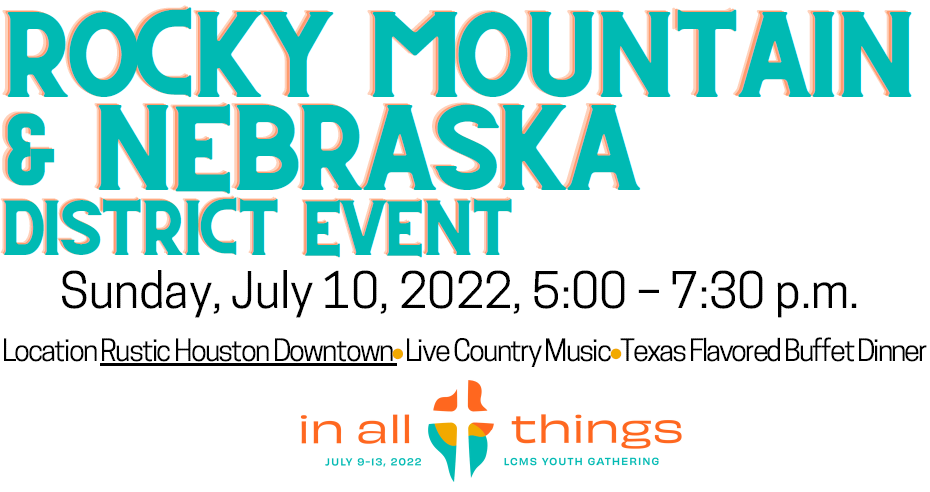 Hello from your Rocky Mountain District Coordinator!
I hope your NYG planning has been going well. I am excited to share with you about our District Event!
Your group is invited to join other groups from the Rocky Mountain District and the Nebraska District and for a special District event during the LCMS Youth Gathering on Sunday, July 10, 2022, 5:00 – 7:30 p.m. at The Rustic Downtown 1836 Polk Street, Houston.
Registration is $28 per person and includes a buffet dinner (a variety of the flavors of Texas), games, and music from the main stage. The Rustic Downtown is next door to the George R. Brown Convention Center and less than a mile walk to the mass event at Minute Maid Park!
This open house event starts at 5:00 p.m. offering a convenient meal for your group. Food will be served buffet-style throughout the event. This is an opportunity for you and your group to meet with other people from the Rocky Mountain District and also make new friends from the Nebraska District.
To register your group for the District event, please complete the Registration Form.
If you have any questions you can reach me at rmdnyg@gmail.com. You can also find a lot of helpful info at https://lcmsgathering.com or in the Facebook group LCMS Youth Ministry. Did you know there is also a NYG planning podcast? Check it out here.
Katie Morgan
National Youth Gathering Rocky Mountain District Coordinator