SPONSORED by the Rocky Mountain District SOAR Adult Ministry Committee
THEME: "A Mighty Fortress"
God is our refuge and strength, a very present help in trouble – Psalm 46:1
WHEN: Saturday, September 23, 2023
WHERE: Bethlehem Lutheran Church, 2100 Wadsworth Blvd., Lakewood, CO 80214
COST: $30.00 per person, which includes program costs, continental breakfast, lunch, and coffee!
A one day seminar sponsored by the SOAR Committee of the Rocky Mountain District/LCMS will be held at Bethlehem Lutheran Church, 2100 Wadsworth Blvd., Lakewood, CO 80214 on Saturday, September 23, 2023. Registration and continental breakfast are at 8:45 am, and the first of the presenters will begin at 9:30 am. The full agenda is listed below.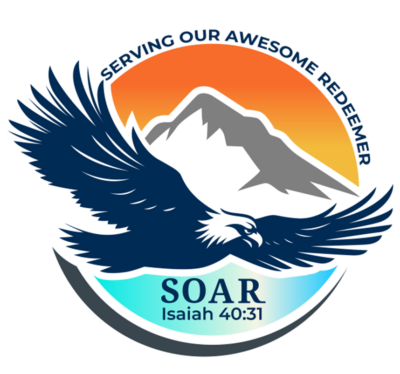 Your registration fee of only $30/person covers continental breakfast, lunch, coffee breaks, and costs for the speakers and facility.
Last year over 100 members registered, and many offered favorable comments about the program, stating that the topics of the presenters were extremely interesting and educational. We encourage you to invite and bring other Christian friends. Register a friend (or couple) who has not previously attended a SOAR event at one-half cost!
Seminar Program Includes:
THE REV. DR. LAWRENCE R. RAST JR. Dr. Lawrence R. Rast Jr. serves as the sixteenth president of Concordia Theological Seminary, Fort Wayne, Indiana, and professor of American Christianity and American Lutheranism. Dr. Rast joined the Department of Historical Theology in the fall of 1996. Previous to his seminary service, he was the pastor of Ascension Lutheran Church, Madison, Tennessee (1992-1996). As President of CTSFW, Dr. Rast launched a significant strategic planning process that has resulted in the funding and completion of a new library, the tripling of the Seminary's endowment, successful audits of all business practices, the provision of a 100% tuition guarantee for all residential students, and steady enrollment in the face of significant demographic challenges. In addition to serving at the Seminary, Dr. Rast regularly presents at district and congregational workshops, retreats and conferences around the United States. He has represented the Seminary and Synod at numerous international conferences and by teaching in Argentina, Brazil, Tanzania, Kenya, South Africa, Ethiopia, Ghana, Russia, Germany, Sweden, Belgium, the Czech Republic and elsewhere throughout the world.

REV. ROBERT JARVIS: A FORTRESS AT 1202 FOLSOM. Hear about RMD's oldest mission and how it's not only reaching out to the members of the community of CU Boulder and strengthening them with the Lord's Word and Sacraments for their battles, but training students to become leaders in their church and community. Pastor Jarvis has been a pastor for 33 years and 22 of them have involved campus ministry. He's originally from St. Louis MO, and returned there for seminary after going to school at Concordia, St. Paul and Concordia, Seward. He had spent his whole life living in the Midwest, serving only parishes and campus ministries in MN and WI, but he has now become a Western transplant. He was just installed in November 2022 as the campus pastor at University Lutheran Chapel in Boulder CO., and is enjoying his first full school year at CU. He is married to Joanne and they have four children and two grandchildren.

MR. ROBERT HAYES: UNDERSTANDING ADULT ADHD – A STORYTELLER'S PERSONAL JOURNEY. As a Community Health Nurse at Centura Health, Robert will explore ways to better understand Attention Deficit Hyperactivity Disorder (ADHD) as he shares his journey from chaos to diagnosis to treatment to thriving. Robert Hayes is the Injury Prevention Program Manager where he is responsible for leading the health system's Injury Prevention and Trauma Survivors Network programs. Robert focuses on the leading causes of injuries in Colorado and works with community partners, government, faith communities, and not-for-profits to implement evidence-based programs and initiatives. Robert earned his Bachelor of Arts in Sociology from Clemson University in 1999, an Associates of Health Science in Nursing from Greenville Technical College in 2004, Master of Art in Pastoral Theology from St. Joseph's College of Maine in 2014, and a Bachelor of Science in Nursing from Arizona State University in 2021.
ENTERTAINMENT: WE ARE 4GIVEN! Sandy Meske – Accompanist and Musical Conscience, Jim Walker – Bass, Jim Krueger – Baritone, Tony London – Lead, and Daryl Meske – Tenor and Sandy's (Blessed) Husband. 4Given has been singing together, at many different venues across Eastern Colorado, for about 15 years now. We now find ourselves spread across various Lutheran Churches in the North Metro area, but still love to be in fellowship, bringing praise and Glory to God with our music. We never get tired of singing God's praises and doing our best to use the gifts He's given us to bring Glory to His name! We still have a goal to record a professional CD sometime soon, God willing, the proceeds of which would go to Ministries in need. We truly hope you enjoy our music today as much as we always enjoy being in fellowship with you!
---
SEMINAR SCHEDULE
8:45 am Registration/Continental Breakfast/Coffee/Getting Acquainted
9:00 am Opening & Prayer and Hymn Sing
9:15 am LBT Video on Bandi OT Bible Translation
9:30 am Keynote Speaker: Dr. Lawrence Rast, Ft. Wayne Theological Seminary President, Part #1
10:30 am Coffee Break
10:45 am Keynote Speaker: Dr. Lawrence Rast, Ft. Wayne Theological Seminary President, Part #2
11:45 pm Lunch – (Regular and Gluten Free Options)
12:30 pm Mr. Robert Hayes, Understanding Adult ADHD: A Storyteller's Personal Journey
1:30 pm Break
1:45 pm Rev. Robert Jarvis, University Lutheran Chapel, A Fortress At 1202 Folsom
2:45 pm Coffee Break
3:00 pm Entertainment: 4Given
3:45 pm Closing Service by Rev. Jarvis and Hymn "On Eagles Wings"
4:15 pm Announcements/Sendoff